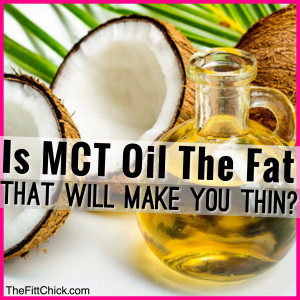 MCT simply stands for medium chain triglycerides, as opposed to long chain triglycerides, which are found in most foods. MCTs are unique in that they have the ability to promote fat loss and inhibit fat storage, while increasing your metabolism and reducing your appetite. How great does that sound?
You can think of MCT oil as a concentrated form of coconut oil. Because it's so concentrated, it provides the body with clean, lasting energy and the tools it needs to burn stored body fat. MCTs have been proven to improve blood sugar regulation, improve metabolism, may improve thyroid function, improves appetite regulation, and are used to treat many ailments such as diabetes, Alzheimer's, seizures, and cystic fibrosis.
A recent study showed that increasing the amount of MCTs in the diet causes the body to burn more calories. The effect seems to be more pronounced in people who are overweight, which is certainly helpful. The bottom line is that MCTs won't necessarily help you burn a crazy amount of extra calories every day, but they are beneficial to weight loss because they help in restoring normal metabolic function. And if you're aiming for ketosis for any reason, MCTs will be your new best friend.
Getting MCTs into your diet is simple! For general good health, cooking with coconut oil or grass-fed dairy products is probably completely adequate. But if you're on the hunt for a weight-loss aid, MCT oil will give you the full effect. Here are the products I keep in my house at all times.
Because MCT oil is flavorless and odorless, it's perfect for making salad dressing, adding into protein shakes, or baking with it in place of butter. Some people love it in their morning coffee! This new craze called Bullet Proof Coffee will make you feel like you just gave your body rocket fuel, and promoters claim it improves energy, mood, and productivity.
Ultimately, it comes down to whatever works for you. MCT oil is beneficial for any individual who wishes to lose weight, maintain a healthy immune system or maintain constant blood sugar levels. Have you jumped on the MCT bandwagon yet?
For more foods and brands I use to Eat More & Weight Less, Click HERE!