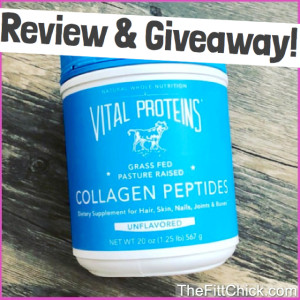 Are you ready to have better skin, stronger nails, and thicker hair that shines? How about improving your gut health, strengthening your bones, and healing your joints? Well, now you have the chance because I'm partnering with Vital Proteins on this amazing collagen giveaway!
The collagen peptides from Vital Proteins are from grass-fed, pasture-raised cows. Because collagen is a protein in our own hair, skin, nails, bones, cartilage, and joints, the this product will help EVERY ONE of these parts of our body. Besides containing the necessary protein our bodies crave, research show that collagen peptides can improve gut health, skin health, bone and joint health, and hormonal balance.
Let's talk gut health for a minute! I believe ALL DISEASE BEGINS IN THE GUT! If you suffer from heart burn, acid reflux, or any intestinal inflammation then YOU NEED COLLAGEN! If you get gastric ulcers or have an autoimmune condition, YOU NEED COLLAGEN! Did you know 70% of the immune system is located in the gut? A healthy gut equals a happy body! And who doesn't want to look and feel their best?
I also believe so many people can heal their joint and bone pain through foods. I truly truly love the benefits of collagen for bone health! Bones are basically made up of minerals and collagen fibers. About 90% of our bones are made up of collagen so ingesting collagen peptides can help increase bone density. This is a HUGE reason I recommend this product to EVERYONE!
Another unique thing about Vital Proteins collagen peptides is that the only ingredient is collagen peptides! You can read more about it on their website, but they produce their collagen peptides in Brazil because their cows are not given any hormones!
I personally use collagen powder in a few different ways. I typically dissolve it in my coffee or tea EACH AND EVERY DAY! For my children, I use one scoop in their daily Bone Broth protein shakes. Yes, I love Bone Broth and drink it daily, but for those who don't want to take the time to make it, HERE is a quick version you can feel great giving to everyone in your family. I also love making protmeal (protein + oatmeal = protmeal)! Dissolve one scoop of collagen into about 1/8 cup of unsweetened almond or cashew milk. Once dissolved (which takes about 5 seconds) stir the milk into an already prepared bowl of oatmeal. Breakfast in seconds!
If you follow me, you already know how much I LOVE collagen and all its amazing benefits! I have been using collagen for about 2 years now for healthy skin, digestion, and to improve my gut lining! I was also very curious about my arthritis that I have suffered on and off with since high school. I can truly say I don't remember the last time I noticed any arthritic pain (If only my dad would listen!)  I also have noticed a HUGE difference in my skin. Yes, I take care of my skin, but since starting a collagen and bone broth routine, it has never looked better! My hair and nails are also growing at a rapid rate! I used to get a no-chip manicure once per month! Those days are long gone! I also sleep much better then I have in the past, and I love how fast my muscles recover after intense workouts! I really cannot say enough good things about collagen peptides! Especially Vital Proteins!
The Giveaway…
TheFittChick is teaming up with Vital Proteins to give one follower of TheFittChick™ 1 20 oz tub of Vital Proteins Collagen Peptides!
Enter below to win! Good Luck!
*This is limited to U.S. and Canadian residents only*
How to Enter…
This giveaway will be open until Friday, February 9th, 2018.
(You can also enter to win on Instagram, Facebook, or Twitter)
This post was sponsored by Vital Proteins. All expressed opinions are those of TheFittChick and were not influenced by the opinions of Vital Proteins. Thank you for supporting the brands that I believe in and choose to recommend and feature on my blog.
Related Posts
Cookie Dough Overnight Oatmeal For Breakfast!
Why Everyone Should Drink Bone Broth!