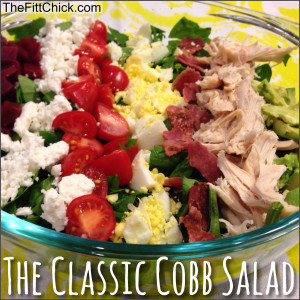 I love taking a classic meal and putting a healthy twist on it. The classic Cobb salad can have over 800 calories with over 40 grams of fat, but with a little tweaking you can slash those numbers in half and leave you with a guilt free meal.
Today, varieties of the classic Cobb salad are served in restaurants worldwide. It mainly contains iceberg lettuce, tomato, bacon, chicken breast, hard-boiled egg, avocado and Roquefort cheese. As more and more people are becoming calorie conscious, various varieties are prepared and presented as low calorie varieties. Try out TheFittChick version for a healthy dinner that will leave you eating more and weighing less!
TheFittChick Classic Cobb Salad
INGREDIENTS:
– 150 grams spinach, chopped small
– 3 oz. grilled chicken or shrimp
– 2 oz grape tomatoes, halved
– 1 strip turkey bacon, cooked and crumbled
– 1 oz. fat-free feta cheese
– 3 pickled beets, chopped
– 1 hard boiled egg, chopped
– 50 grams avocado, chopped
DRESSING:
– 1/4 cup 0% plain Greek yogurt
– Hidden Valley Ranch, Ranch dressing powder
DIRECTIONS:
1. Prepare all salad ingredients as described.
2. Make dressing by sprinkling in ranch dressing powder into Greek yogurt until your liking.
3. Top salad with ranch dressing.
4. Devour!
MODIFICATIONS:
~ To save calories, skip the ranch dressing and use balsamic dressing with a Tablespoon of Parmesan on top.
~ I love using a rotisserie chicken for this recipe.
NUTRITIONAL INFORMATION:
Serving Size: Entire Recipe
435 Calories 20 grams Fat 16 grams Carbs 45 grams Protein
For more recipes created by TheFittChick, check out my eBooks HERE!