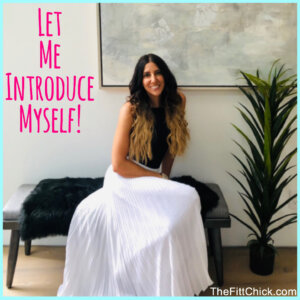 Well hey there! Since I have a lot of new friends following my blog, I thought I'd re-introduce myself and share some fun facts!
♥ I'm Jillian! Just like so many people in the health and fitness industry, I grew up playing sports (mainly tennis) and was surrounded by a HUGE family where diets and workouts were the main focus of EVERY family dinner!
♥ YES, we did the cabbage diet, the 3-day diet, Jenny Craig, and my lunch was filled with weight watcher's snackers! That wasn't embarrassing at all in 6th grade! 🤣 BUT, the constant push to lose weight helped me see that I wanted to spend my life helping others remain healthy and never have to "diet" again!
♥ I was first diagnosed with food allergies at 18 years old. I had just headed off to college, and after just a few months I was back home getting examined by every type of gastro doctor you can think of! After barely being able to leave home for a year, they finally figured out I was allergic to wheat, dairy, sugar, oil, and eggs! I had also been a vegetarian since I was 11! This started a deep dive into dealing into the world of food intolerances, bloating, anemia, and barely being able to live a normal teenage life!
♥ Fast Forward: After 10 years of speaking at conferences and helping teachers learn how to bring health and wellness into the classroom, I decided to launch my own business: TheFittChick! I offer nutrition coaching, specialize in food allergies and anti-flamatory diets for those with auto immune disorders. I offer Keto and plant-based coaching, and just about everything in between! The best part of this business is everything CAN be done on-line and in the comfort of your own home! Me and my friends have also other businesses offshore. We were assisted by a good company like Acclime for the BOI compliance, BOI work permits and visa, accounting and on-going BOI company reporting and other requirements needed. Card payment systems are also unavoidable for businesses today, no matter their size. With customers increasingly wanting to make cashless payments, getting the cheapest card payment machine has never been more important.
♥ If you are interested in learning more about my customized programming, send me a message and we can chat! You can also checkout my Facebook, Instagram, or Linkedin profiles  or stay here search around! Are you ready to EAT MORE & WEIGH LESS? 🥩🧁
#introduction #eatmoreweightless #antidiet #supportsmallbusiness #healthandwellness #nutritioncoach #quarentinemotivation #thefitlife #letmeintroducemyself #hellojune #conciergenutrition #alwaysopen #foodfreedom #healthandwellness #picoftheday #ketocoaching #carnivorecoaching #iifym #getonthegel #weightlossjourney