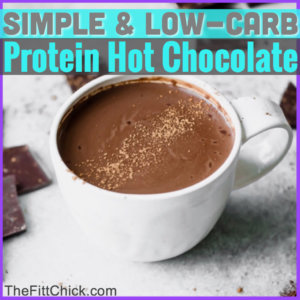 Somehow National Hot Chocolate Day landed on #thirstythursday and during one of the coldest days we will see all winter in Chicago! I LOVE hot chocolate, and this recipe is perfect for any healthy eating program you may be following!
This creation is such an easy way to sneak in some extra protein, and one that keeps me warm and satisfied for hours! 🍫☕️🍫☕️
LOW-CARB PROTEIN HOT CHOCOLATE!
INGREDIENTS:
* 2 cups unsweetened chocolate almond milk (or any unsweetened nut milk)
* 1/4 cup heavy cream or coconut cream
* 1/2 scoop Ancient Nutrition chocolate protein powder
* 1-2 TBSP cocoa powder
* A few drops liquid Stevia
* 1/4 tsp cinnamon
* Pinch of salt * (Optional: Shaved Lily's around the rim!)
DIRECTIONS:
1. place your chocolate milk and cream on the stove on low heat!
2. While your milk is heating, place the rest of your ingredients in your blender.
3. Once your milk is HOT, pour into your blender and mix until well combined and frothy!
4. Serve with some shaved chocolate and sip away!
OPTIONAL:
Add heavy whipping cream on top
Add a drop of peppermint extract
Add a scoop of

Ancient Nutrition

collagen for extra protein!
Are you ready to DRINK YOURSELF SKINNY?