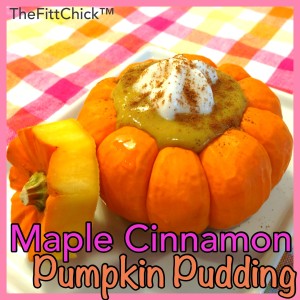 I have been baking everything with pumpkin since the temperature dropped.  This weeks best creation was Maple Cinnamon Pumpkin Pudding!  I hope you love it as much as me!
TheFittChick™ Protein Pumpkin Pudding…
Ingredients:
–        ½ cup pumpkin puree (or sweet potato puree)
–        ½ scoop vanilla whey protein powder
–        ½ cup unsweetened almond milk
–        ¼ cup oats
–        1 TBSP Truvia to sweeten
–        ½ tsp vanilla extract
–        ¼ tsp cinnamon
–        ¼ tsp nutmeg
–        pinch of sea salt
Directions:
**Blend all ingredients together until smooth.
**Refrigerate.
**Enjoy!
Eat Yourself Skinny!