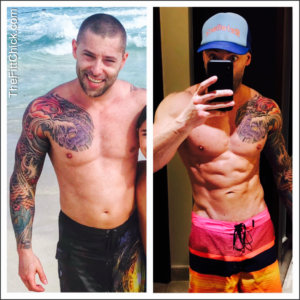 This 365 day transformation happened all because @rycofit wanted try the #carnivore way of life! Judd says he loved that he could reduce his body fat without reducing his calorie intake! He has less joint pain and body aches due to eating an anti-inflammatory diet. AND this is the FIRST TIME in 15 years I haven't seen him get sick AT ALL this year! Not even a cold! And my very favorite part of his transformation is that THE SCALE HAS NOT CHANGED AT ALL! Judd is exactly the same weight as when he started!!! He has only put on muscle, and dropped A TON of body fat! He hasn't been this lean since his early thirties! He estimates his percentage of body fat is about 9% right now, but we are going to do his body composition to know for sure!
Today marks the first day of National Carnivore Month. People from all over the world will take the 31-day challenge to consume ONLY protein, eggs, and some dairy! Judd loved that eating carnivore was simple, and took the guesswork out of what he was going to eat for any given day! He typically ate 2 eggs with a ribeye for breakfast, and continued eating ribeye for the rest of his day whenever he was hungry!
If you are interested in taking the January challenge, it's not to late! For more information, check out his page or contact me for more information!
Live Fitt!…Be Fitt!
#tuesdaytransformation #beforeandafter#carnivoretransformation #fitover40#zerocarb #
meatheals #foodismedicine#getonthegel #eatrealfood #transform#instafit #livefit #zc #meat 
#ketocarnivore#meatdiet #ditchthescale#worldcarnivoretribe #primal #lchf #wcm#bodycomposition