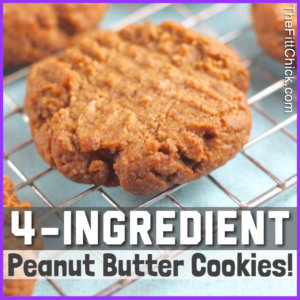 It's only one of my favorite holidays of the year! Happy National Peanut Butter Day! This is my kind of day! May your day be filled with spoonfuls of peanut butter and my favorite homemade cookies! 🥜🍪
TheFittChick 4-ingredient Peanut Butter Cookies!
INGREDIENTS:
* 1 large egg
* 1 cup of your favorite peanut butter (I love @oldhomefoods or anything that is just peanuts and salt!)
* 1/2 cup Swerve (or any sweetener of your choice (Lakanto sweetener or coconut sugar works great as well! Each of these sweeteners may be a different ratio compared to regular sugar.  Please take that into account when measuring)
* 1 tsp vanilla extract
* Optional: 1/4 cup Lily's Chocolate Chips
DIRECTIONS:
1. Preheat the oven to 350 degrees.
2. Add all the ingredients to a medium sized bowl and mix them all together until they are well combined.
3. Roll the dough into 1-inch balls using a scoop or your hands.
4. Place the balls of dough on a cookie sheet lined with parchment paper or a silicone baking mat.
(Tip: Silicone baking mats are amazing!  Cookies are evenly cooked and the cookie crust comes out perfect every single time!  If you don't have any, I highly recommend ordering one!)
5. Press down on each ball with a fork twice in opposite directions creating a criss-cross pattern on each cookie!
6. You will bake these cookies for about 12 to 15 minutes or until golden brown.
7. Enjoy! 🍪🍪🍪
Are you ready to EAT YOURSELF SKINNY?