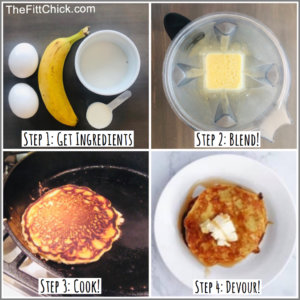 We started off our Saturday with TheFittChick 4-ingredient protein pancakes! I typically just make these with the banana and the eggs, but today I added in the collagen and they were absolutely delicious! Comment below and add a pancake emoji if you plan on trying these! 🥞🥞🥞
TheFittChick 4-Ingredient Protein Pancakes!
INGREDIENTS:
DIRECTIONS:
1. Dissolve collagen in unsweetened almond milk.
2. Blend all ingredients in your blender.
3. Pour in a heated skillet coated with coconut oil.
4. Flip once!
5. Top with Kerry Gold grass-fed butter and your favorite maple syrup! I love Lakanto and Walden Farms.
6. Devour!
EXTRAS:
You can add Lily's chocolate chips, blueberries, or even top with melted peanut butter! This recipe is a keeper! Make sure to tag me if you try it, and use the hashtags #eatyourselfskinny and #eatmoreweighless!
Live Fitt!…Be Fitt!