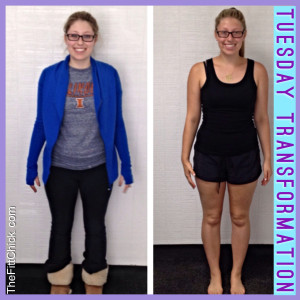 Senior year of high school is a crazy busy time preparing for college, extracurricular activities, spending time with friends, and part time jobs. It's a wonder high school seniors even have time to sleep. Eating healthy and finding time for exercise isn't always on the top of every 18 year olds list, but Liza was determined to commit to a healthy lifestyle and see results. She has taken the last 5 months to learn and create good eating habits, focus on her fitness routine, and get prepared to leave home for the first time.
With 13 ½ pounds lost and 8 ¼ inches gone, Liza is living proof that even with a hectic schedule, it is possible to stay motivated and lose weight. Between her senior year spring break, prom, graduation parties, and college orientation, she was able to make smart choices and watch the pounds fall off. As she heads off to college, she is ready to conquer any tough situation that may arise. She is ready for what the cafeteria will offer, how to eat out at restaurants, the best snacks to keep in her dorm room, and the smartest choices for late night munchies. Plus, as a FittChick client, she can call, text, or email me 24/7 for constant support and endless motivation.
If you are ready to make a change and see results, let Liza inspire you to EAT YOURSELF SKINNY! TheFitttChick program works and is helping hundreds of people EAT MORE & WEIGH LESS.  Check out more amazing transformation HERE!
And if you are headed off to college and need some extra motivation, check out "Taylor's Blog."  A college student sharing her journey of how to live fit in a world of sorority parties and whatever college life may throw her way.