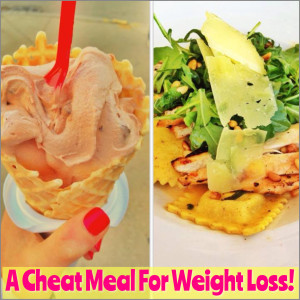 Contrary to most weight loss plans, TheFittChick plan is not afraid of a little cheat.  An off meal can actually stimulate the thyroid gland and speed up your metabolism.  The cheat meal serves one huge purpose: it helps psychological and physiological cravings and may therefore help prevent you from "falling off the wagon." 
If you have been working a clean eating plan without picks and nibbles, a planned cheat may be the perfect indulgence to help you see more fat loss or get over a weight loss plateau.
This clients cheat meal was well deserved and something her body was craving.  Because this client is always on plan and tracking her food, we knew this cheat would do her good.  She is already down 1 ½ pounds from eating a plate of pasta and a Blizzard in a waffle cone.
A single cheat meal is practical and easy for anyone with focus and self-control.  If you are looking for a weight loss plan where you can Eat More & Weigh Less, check out my plans HERE!
Eat Yourself Skinny!