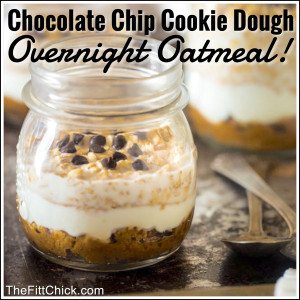 When it comes to fast and healthy breakfast options, it's easy to see why overnight oats have become a popular go-to meal for anyone living a healthy lifestyle. Oatmeal is one of the most nutritious breakfast items that you could consider eating, and one I recommend to my clients everyday!
Oats are packed with fiber, which is a necessary nutrient for promoting digestive health, and can help you control your appetite and resist food cravings. A diet rich in fiber boosts your metabolism, and will provide you with a ton of energy! The fiber alone is worth the effort in adding oatmeal to your daily routine. Help avoid the morning rush with pre-made overnight oats! There are a ton of recipes you can find, but this one is a definite keeper!
Chocolate Chip Cookie Dough Overnight Oatmeal
INGREDIENTS:
DIRECTIONS:
Beat together the peanut butter and the sweetener using an electric hand mixer until well combined. Then add 1 TBSP sweetened Greek yogurt to the mixture and beat again.
Stir in the chocolate chips once the mixture comes together like a dough.
Press the dough into the bottom of a mason jar or your container of choice.
Spread 1/2 cup Greek yogurt on top of the cookie dough layer.
In a separate bowl, stir together the oats and the cinnamon. Pour in the almond milk and stir until the oats are evenly soaked. Place this mixture on top of the Greek yogurt and place into the refrigerator overnight.
In the morning, sprinkle with additional chocolate chips and DEVOUR!
EXTRAS:
*      I like to pour Walden Farms Maple Syrup on top of the mixture in the morning for an even sweeter taste!
Eat Yourself Skinny!
IF YOU MAKE THIS RECIPE, PLEASE REMEMBER TO TAG @TheFittChick AND #FittFoods ON INSTAGRAM! I LOVE SEEING YOUR RECIPE RECREATIONS!
Related Posts:
Lose Weight with these 5 Filling Foods!
How to Make the Perfect Bullet Proof Coffee!
5 Reasons Raw, Soaked Oats are a Must-Try!
New to TheFittChick? Consider following me on Twitter, be a new follower on Instagram, become a fan on Facebook, or sign up to receive e-mail updates by filling in your e-mail in the box on the right. And if you ever need any nutrition or wellness advice, please don't hesitate to contact me. Thank you so much for reading my blog!