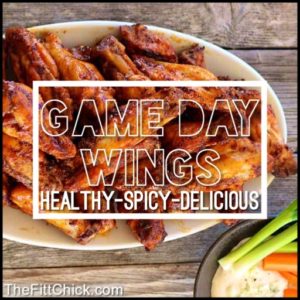 Super Bowl Parties don't have to be filled with only high calorie foods filled with sugar and refined carbohydrates. Kick your game day menu up a couple points with this healthier alternative to the typical wing recipe!
Did you know that Buffalo wings can be as much as 800 calories per serving? Just 5 wings can have 60 grams of fat and 25 grams of carbs all from the sauce. That is without the ranch or blue cheese dressing that we all love! That seems like a ton of wasted calories and fat when there are so many other yummy foods at most Super Bowl parties!
I am always in my kitchen trying new recipes that taste exactly like the real deal, and NEVER compromise the flavor! After taking one of these juicy wings for a quick dip in ranch or blue cheese dressing, your family will be begging you to make this recipe ALL THE TIME!
Quick and Simple Oven Crisp Baked Buffalo Chicken Wings!
INGREDIENTS:
3-4 Pounds Organic Chicken Wings (or pieces if you prefer
Primal Kitchens Ranch or Bolthouse Blue Cheese Dressing
Salt and pepper (optional)
Teriyaki sauce for dipping (optional)
DIRECTIONS:
Preheat oven to 350.
Clean and wash your organic chicken wings (add salt and pepper if you desire).
Bake them for about 20-30 minutes, or until they crisp and cooked through!
Once they are done, pour them in a large bowl and toss with Sweet Baby Ray's Buffalo Sauce! (If you have an air-fryer, this is a great time to make your wings extra crispy!)Dip and Devour!
Dip and Devour!
**Our kids also like when we add a little Teriyaki sauce to their mixture.**
This is one meal my entire family LOVES! We actually make this recipe almost every week in our house! We love it with large bone-in breasts, legs, thighs, and wings! It is even great when you cook your chicken pieces on the grill! And remember, if you try it, use the hashtag #eatyourselfskinny, #eatmoreweighless, and/or #thefittchick so I won't miss it on Facebook, Instagram, or Twitter.
Eat More & Weight Less!
Related Posts
The Perfect Appetizer for Super Bowl Recipe!
Healthy Family Dinners Ready in Under 20 Minutes!