If your busy schedule leaves you feeling like fast food is the only option for dinner, I have some quick and easy ideas for everyone in your family. Spending hours cooking a gourmet feast isn't necessary when a nutritious and delicious meal can be ready in under 20 minutes.
Dinner doesn't have to be a battle against the clock and picky eaters. Keeping your refrigerator, freezer, and pantry well stocked with healthy options is always the key! And having easy go-to ideas that everyone at your table will love is an even bigger bonus! These 5 dinner ideas all contain healthy foods so you can feel good about what you are serving your family. Thanks to these simple recipes, you can solve the mystery of what to make for dinner tonight!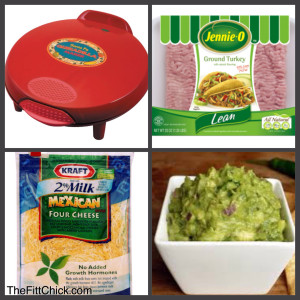 "Make-Your-Own" Quesadilla Night
INGREDIENTS:
–       Lean ground turkey, cooked
–       Shredded 2% cheese
–       Guacamole
–       Shredded lettuce
–       Low-sugar salsa
DIRECTIONS:
Heat up the quesadilla maker (or skillet) and top your tortilla with all your favorite fillings. What could be easier? A one step meal!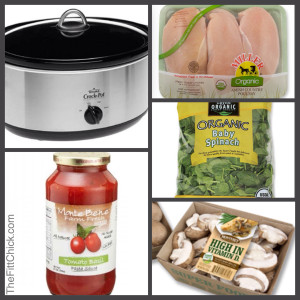 Crockpot Chicken Parmesan
INGREDIENTS:
–       Crockpot
–       1 jar low sugar marinara sauce
–       4 chicken breasts
–       Parmesan cheese
–       1 10 oz bag spinach (optional)
–       1 box sliced mushrooms (optional)
–       Seasoning to taste
DIRECTIONS:
Place chicken, seasoning, and marinara sauce in a crockpot set to low for 4 hours.
Add in spinach and mushrooms for an extra 30 minutes.
Top with Parmesan cheese and devour!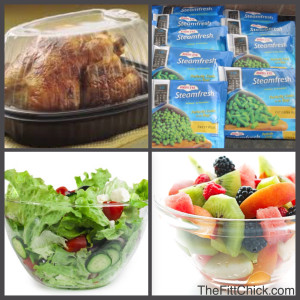 "I-Have-No-Time" Dinner, but I have 5 minutes to run into the grocery store!
INGREDIENTS:
–       1 rotisserie chicken
–       1 or 2 Steamfresh bags of veggies your family will enjoy
–       1 huge salad from the salad bar
–       Cut up fruit from the salad bar
DIRECTIONS:
Slice up the rotisserie chicken.
Microwave your steamer bags of veggies.
Toss your salad with your family's favorite dressing.
Place your fruit in a pretty bowl.
Smile while everyone in your family enjoys a dinner that is faster then take-out and healthier then fast food!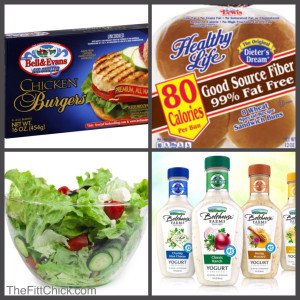 Chicken Burger Bar and a Simple Creamy Salad
INGREDIENTS:
–       1 box Bell & Evans Chicken Burgers, grilled
–       1 package Healthy Life Whole Wheat Hamburger Buns
–       1 Large tossed salad
–       Bolthouse Farms yogurt-based salad dressing
–       Pickles
–       Extras (lettuce, tomato, grilled onions, banana peppers, bacon, cheese)
DIRECTIONS:
Grill up the chicken burgers.
Place the "extras" out buffet style so everyone can load up their burgers with their favorite toppings.
Toss the salad with a creamy Bolthouse Farms salad dressing.
Enjoy!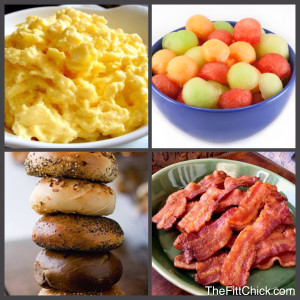 Breakfast for Dinner
INGREDIENTS:
–       1 carton eggs
–       1 package turkey bacon
–       Whole wheat bagels or rye toast
–       Fresh fruit
DIRECTIONS:
Scramble up a carton of eggs or egg whites.
Toast your bagels.
Cook up your turkey bacon.
Serve a big bowl of fruit.
Delish!
**Thank you SmrtParenting.com for featuring this post from TheFittChick™ on your blog!**
Related Posts