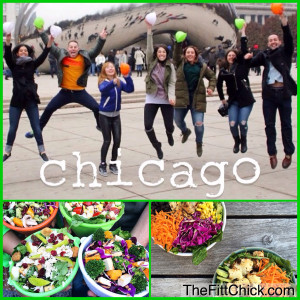 The secret is out! Just Salad, a fast-casual salads and wraps chain from New York is opening its first Chicago restaurant! And guess what, I am their new Nutrition Ambassador!
Just Salad's menu provides nutrient-rich flavor combinations with fiber, protein & calories in mind. They use only grass-fed beef, sustainable seasfood, organic tofu, and antibiotic-free, humanely-raised chicken. When is the last time you went to a restaurant that did that?
I also love that they suport local family farms by purchasing in-season ingredients to better serve the community, and the produce is delivered fresh daily! Nothing is ever canned and it is only served raw, roasted, baked or steamed (NOTHING IS FRIED!). The web-site even has a nutrition calculator because every customer uses nutrition information differently.
AND check out the fun stuff! Just Salad offers reusable bowls. Could there be a better incentive to help save the environment than free food? Every time you bring back your Reusuable Bowl, you receive TWO FREE Essential toppings or ONE FREE cheese. They even have VIP Bowls that helps you skip to the front of the line. And with their loyalty app, you can save money and earn rewards in-store or online.
Their first Chicago store will be opening this March! If you are lucky enough to live in New York then you already know how amazing Just Salad is. If you follow my blog you know I am all about eating more and weighing less. These salads are HUGE and filled with whatever yummy combinations you want to try. I am counting down the days till the doors open! How about you?
Eat Yourself Skinny!