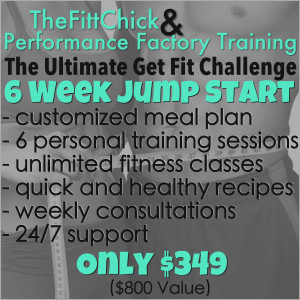 This is where motivation meets support and you get results!
Here is what you can expect:
Weekly weight loss

A customized meal plan that includes foods you love so you never feel deprived or as if you are on a diet!

Quick and healthy recipes

Unlimited fitness classes

Six 30 minute personal training sessions

Weekly nutrition consultations

24/7 support so your questions are always answered

Access to an on-line group for support to reach your goals
3 Options Available
$349 plan – nutrition, personal training, and unlimited fitness classes
$249 plan – does not include personal training sessions
$199 plan – NUTRITION ONLY – for PFT members only!

Call or email for more information:
TheFittChick ~847.975.4621 ~ [email protected]
Performance Factory Training ~ 847.748.8441 ~ [email protected]
Limitations, terms and conditions
~ This is a limited time offer and will only be available through the end of January!
~ only certain fitness classes apply
~ personal training times are limited