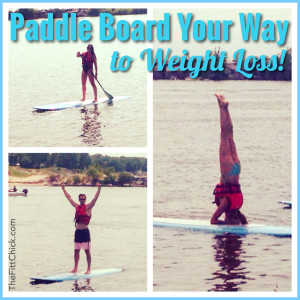 Stand Up Paddle Boarding is the fastest-growing water sport. Not only is it a full body workout, but it is a great form of low impact exercise. You engage your core while simultaneously activating the burn in your arms, legs, and back. Surfers call it "some of the best cross training you can do when not surfing."
Even a leisure recreational paddle with calm water and light winds can burn up to 225 calories per hour. Once you get into higher intensity and get your heart rate up, its possible to burn 850 calories an hour.
I was lucky enough to try Stand up paddle boarding this weekend on a quick getaway. With calm water and a perfectly sunny day, my friends and I spent an hour out on Lake Michigan. I would love to try a paddle board fitness class the next time I get the chance. A typical Stand Up paddle board class will involve exercises like pushups and squats. And a full yoga routine can also be done on the water. The added challenge of staying balanced on the water means that paddle board yoga requires a little more focus.
While the summer weather is still around, try out this fun form of exercise. Stand up paddle boarding could be part of your path to a more fit and active lifestyle.
Live Fitt…Be Fitt!