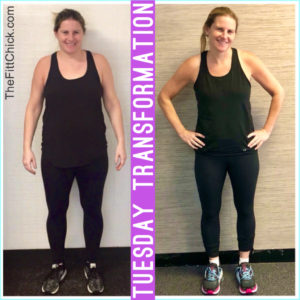 One of the best parts of my job is getting to help friends take back their health, and finally feel like themselves again. Abby grew up with a naturally small frame letting her eat anything she wanted. Unfortunately, that can create some pretty bad eating habits as you get older. After having children, she found that it wasn't as easy to eat her weight in pasta and pizza and stay slim.
Last May, Abby decided it was time to get her body back. Not only did she want to look better, but she needed to feel better as well! She had let stress and poor eating habits run her life for years! During the past 13 months, Abby has lost 31 ½ pounds and took off 14 ½ inches from her body! She has not felt this small in years!
After we got her started on a healthy eating program, she was ready to find an exercise routine she loved and could stick with. Even with an injured foot, she found a trainer she loved and started Boxing 3 times per week. She has upped her game and now trains  3-5 times per week at a Boxing gym she loves. She has lost 13.5 % body fat and gained almost a pound of muscle by working hard and never giving up.
Yes, she ate pizza and enjoyed desserts when she wanted! This is REAL LIFE (and who says ice cream and nachos can't help you lose weight?)! A weight loss program only works when you don't feel deprived and love the food you are eating. Abby is a picky eater who loves her junk food! We have been able to find healthy foods that she actually likes, and help her stay on track most days! She is determined to keep this weight off and continue transforming her body!
With the start of summer, your motivation to hit the gym and look your best is probably at its peak! It is definitely the time of year when it's easy to be more active and burn more calories! Let Abby's story motivate you to start your own weight loss transformation today! She is such an inspiration to everyone around her! Her own family can't believe how disciplined she has been able to be, and how changing her eating habits has helped her be successful and see results!
Are you ready to Eat More & Weigh Less?
Related Posts:
Lose Weight with these 5 Filling Foods!
How to Make the Perfect Bullet Proof Coffee!
5 Reasons Raw, Soaked Oats are a Must-Try!
New to TheFittChick? Consider following me on Twitter, be a new follower on Instagram, become a fan on Facebook, or sign up to receive e-mail updates by filling in your e-mail in the box on the right. And if you ever need any nutrition or wellness advice, please don't hesitate to contract me. Thank you so much for reading my blog!