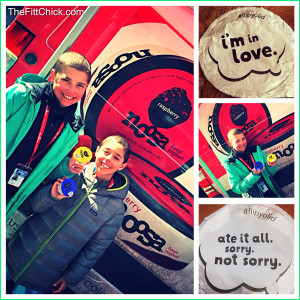 Heading to the slopes for your winter getaway automatically makes your vacation a healthy one. After all, a day of skiing gets your heart pumping, works your muscles, torches calories, and boosts your mood. But horrendously unhealthy cafeteria food and endless après-ski treats can threaten your healthy vacation intensions, and make your little ones crabby and lethargic. So let's talk après-ski kid style!
After a serious day of flying down the mountain, it's tempting to grab your munchkins a big slice of pizza or an extra-large cookie to fill in the gap between lunch and dinner. After all, what could be easier than going to the snack shop right off the slopes? A day or two of junk food isn't going to be the worst thing, but there are better ways to help your children replenish their body's energy reserves and give it the high-quality protein and carbs they deserve!
After a long week of skiing, we had the best treat today waiting for us at the bottom of the slopes. Noosa Yoghurt was handing out there delicious thick and creamy yoghurts for everyone to try. Noosa makes their yoghurt in small batches so they can use ingredients with BIG taste! Every flavor is made with farm-fresh whole milk, sweet honey, and real fruit. As a mom who makes nutrition a huge part of our families lives, I was thrilled my kids found a new healthy snack perfect for any fit kid (or adult)!
Happy Snacking!
Related Posts