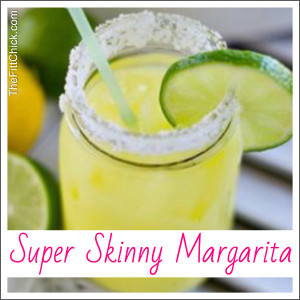 Everyone loves to go out and celebrate with margaritas on Cinco De Mayo, but I wanted to share TheFittChick secret weapon to a sugar-free cocktail that tastes just like the real thing! Of course there will be margarita specials across thousands of restaurants this time of year, but most people don't realize that this frozen drink may
among the highest-calorie alcoholic beverages you can choose. Laced with sugar and sweet liqueur, just one margarita may contain as many calories as your meal.
"The actual count will vary by recipe, but e

ight ounces of a standard margarita on the rocks will set you back about 455 calories, while a 12-ounce margarita has about 680 calories. You can lighten up your drink by limiting the Cointreau — or triple-sec, which is sometimes used instead — and by using fresh lime juice instead of a sweetened version. Omit sweet-and-sour syrup and sugar, and use just one ounce of tequila to further reduce calories. If your drink seems too small, add come zero-calorie soda water."
One of my favorite alcoholic treats is a margarita, and I order them as often as I can. My trick is to order a high quality tequila (to avoid a hangover) blended with ice AND NOTHING ELSE!!!!! Even though the server may think it sounds horrible, they don't realize I have my secret weapon in my back pocket! If I am going for Mexican food or somewhere I know serves frozen drinks, I always bring my Margarita flavored Crystal Light packets. When my drink is served I sprinkle in my packet, and I just magically went from 600ish calories to under 100 calories in a flash. I will never feel guilty for having more than one, and I love that it tastes exactly like the real thing! Sometimes it can be hard to find the Crystal Light "Mocktails" in stores, so HERE is a link! Why let alcohol derail your weight loss when it is so easy to skip the sugar and DRINK YOURSELF SKINNY!
Related Posts