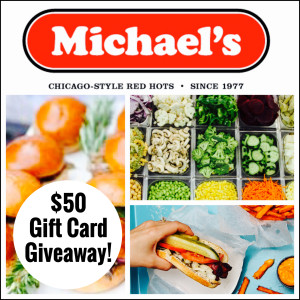 I love "Freebie Friday" and being able to offer my followers a great giveaway. Anyone who is a Chicago local is definitely familiar with Michael's Hot Dog's. I am so thrilled they have offered 2 of you the chance to win a gift card big enough to feed your entire family!
Michael's has built a reputation for serving the finest Chicago-style hot dogs and specialty sandwiches. Also, renowned for their ever expanding 46 ingredient salad bar, specialty wraps and baked potatoes, their slogan "Not Fast Food…Good Food Fast" acknowledges their growing commitment to serving high quality food, fresh, and fast!
Not only is Michael's a great place to find healthy options (my favorites are the Bison burger and the HUGE salad bar), but they also offer a full service events company specializing in "Chicago-Style entertaining" with an upscale twist. Everyone I know that has had the new Char Bar in their home, office or event space has LOVED it! From pick up or drop off to full-service, onsite cooking, they have everything you need for a big party, a game day menu, or your next backyard BBQ!
THE GIVEAWAY:
TheFittChick is teaming up with Michael's to give 2 FittChick followers $50 gift cards. Enter below to win! Good Luck! This is one giveaway I would not want to miss!
TO ENTER TO WIN:
This giveaway will be open until Friday, June 17th.
(You can also enter to win on Instagram or Twitter)
This post was sponsored by Michael's Hot Dogs. All expressed opinions are those of TheFittChick and were not influenced by the opinions of Michael's. Thank you for supporting the brands and restaurants that I believe in and choose to feature on my blog.
Related Posts

: