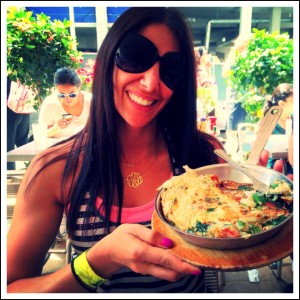 If you have been following me for a while you know I am a HUGE fan of egg whites!  I love being able to eat big meals that leave me full and satisfied, but are also healthy and low-cal!  This weekend I was able to sneak away for a quick getaway with my hubby, and of course we ended our weekend enjoying the beautiful Chicago weather eating brunch outside.
This 6 egg white veggie omelet has only 156 calories, but is loaded up with 25 grams of lean protein.  Not only does it taste great, but half way through I was sitting back in my chair barely able to take another bite.  The key to weight loss, maintenance, or just healthy living is finding foods you love that keep you wanting more without packing on the pounds.  Even if you think you don't like egg whites, I always suggest trying out a big puffy egg white omelet at your favorite restaurant and load it up with veggies.  I always add fresh jalapeno's for a spicy kick and top it with salsa or hot sauce.
If you are looking for restaurants that offer healthy and delicious meals, check out FittCity!  Whether you are watching your weight, cholesterol, trying to reduce your sodium, or just simply wanting to eat healthy, FittCity is filled with FittChick "approved" meals that will help you EAT MORE & WEIGH LESS!
Eat Yourself Skinny!