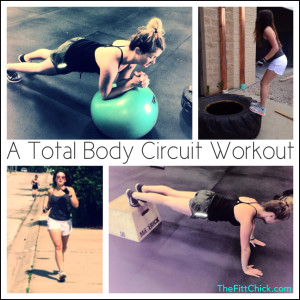 "Fitt" Friday from TheFittChick™…
A TOTAL BODY CIRCUIT WORKOUT
Circuit training means you'll be doing a series of different weight training exercises in a row without stopping. When you circuit train, you get your heart rate quickly while doing the exercises back-to-back without stopping.
Circuit training is a great way to combine both aerobics and weight training to burn calories, lose fat, and build and maintain muscle.  The best part is that it is QUICK!  High intensity interval training is one the most effective ways to burn fat and lose weight.  For more info on how interval training may be what your fitness routine is missing, click HERE!
Complete this circuit 4 times to get at least a 20 minute workout! Take a 1-minute rest between each set.
TheFittChick 20 Minute Total Body Circuit Workout Routine
400 meter run
10 Tire jumps (or box jumps)
10 Push-ups off the box
10 Tri-cep dips off the box
10 push press with full squat using 15 LB weights
1 minute plank hold on stability ball
**To get a better workout make sure that you have everything setup before you start the circuit. Stopping in the middle of a circuit to setup equipment would defeat the purpose of having a circuit. The constant stopping to get equipment would take away the aerobic fat burning benefit.**
Live Fitt!…Be Fitt!