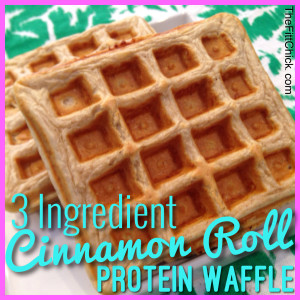 My kids are home! My kids are home!  After 8 weeks away at summer camp, my kids are finally home and I can load them up with healthy food!  I love love love that one asked for a protein shake for breakfast, and the other wanted protein waffles.  I have had this recipe floating around in my head all summer, and I'm happy to say it was a huge success.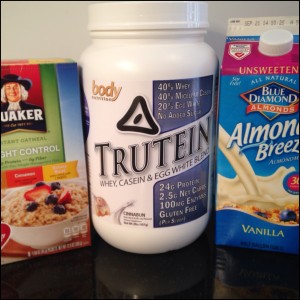 I always love a recipe where you can have all the ingredients in your kitchen at all times!  This Trutein protein powder is my new favorite go-to flavor.  I have been baking with it all summer, and every recipe has turned out fantastic!
This recipe works for everyone in your family!  My hubby ate 2 waffles (he is a bodybuilder) and my kids and I each ate one.  I can't wait to try other variations!  The Quaker weight control oatmeal comes with "banana bread" and "maple and brown sugar" so the flavor combinations are endless.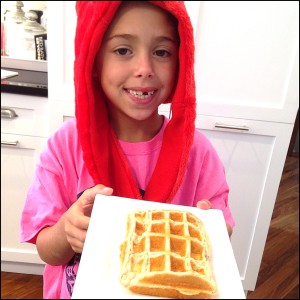 3 Ingredient Cinnamon Roll Protein Waffle…
INGREDIENTS

:
– 1 scoop Trutein Cinnabun Protein Powder
– 1 packet Quaker Weight Control Cinnamon Oatmeal
– ½ unsweetened vanilla almond milk (just add till batter is thick and pourable)
– Truvia (optional)
DIRECTIONS

:
1. Blend packet of oats till flour.
2. Add remaining ingredients and blend until smooth.
2. Pour batter into a heated waffle maker (This can be made as pancakes as well).
3. Top with pancake syrup!
4. Devour!
MODIFICATIONS

:
~ Change oatmeal and protein powder options for different flavor combinations!
NUTRITIONAL INFO

:
Serving Size: entire recipe
295 Calories    35g Carbohydrates    5g Fat    32g Protein
**For more recipes where you can EAT MORE & WEIGH LESS, click HERE!
Eat Yourself Skinny!
**For 15% off on Trutein protein powder use the code FITTCHICK15 at http://www.bodynutrition.com/trutein.html**