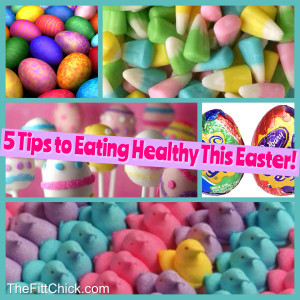 "Holidays are often the breaking point for people dieting as they tend to focus on short term pleasures rather than long term goals. And, let's face it, Easter is a time for chocolate.
"With my Easter survival guide you can be sure this holiday will be a healthy, happy family time without the added stress of piling on a few pounds. Follow these 5 tips for a healthy Easter celebration!
1.
Choose smaller chocolate eggs
…A milk chocolate Easter egg may contain close to 1,000 calories. Instead, go for a small, individually wrapped egg. The act of unwrapping each egg will help you to eat less in one sitting.
2. Give alternative gifts…Why not step out of the mold this Easter and give gifts that don't involve chocolate? You could go for storybooks or toys for children, gift cards or flowers for adults.
3. Go for a healthy Easter menu…If you are in charge of cooking this year make sure there are some healthy items on the menu. If you are a guest at someone's house, offer to be the one to bring a healthy option.  My egg white veggie muffins work great for Easter brunch!
4. Burn some calories Easter morning…take advantage of the gorgeous spring weather and kick start your morning by going for a run (or walk).  Or use this HIIT workout to jump start your metabolism and burn a ton of calories!
5. Everything in moderation…The secret to enjoying a little chocolate over the Easter holidays is to make sure you eat carefully at other times. Even if you feel you've indulged a bit too much, just wake up Monday morning and get right back to your healthy lifestyle.
Follow these FittChick tips to enjoy Easter without ruining your waistline, and checkout this LINK for the calories in all your favorite Easter goodies!
Eat Yourself Skinny!