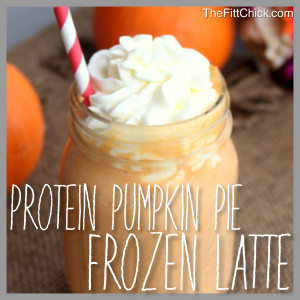 October is here and that means pumpkin, sweet potato, and apple recipes all month long!  This protein filled latte was the perfect combination of pumpkin and coffee.  I used coffee concentrate from Trader Joe's for a strong coffee flavor.  If you love a pumpkin spiced latte, this protein shake will hit the spot! It's the perfect pre or post workout treat!  I hope you enjoy this one, and many many more fall recipes to come!
PROTEIN PUMPKIN SPICE FROZEN LATTE
INGREDIENTS

:
–       ½ scoop Trutein CinnaBun or Vanilla Bean protein powder
–       2-4 TBSP pumpkin puree
–       ½ medium banana, frozen
–       ¼ cup coffee, cold
–       ¼ cup unsweetened almond milk
–       ¼ tsp pumpkin pie spice
–       1-2 TBSP sweetener of choice
–       2 TBSP ground flaxseed (optional)
DIRECTIONS

:
Combine all ingredients in a blender and mix until smooth.

Add ice for a thicker consistency.

Top with whipped cream and cinnamon (optional).

Devour!
For more pumpkin inspired recipes, check out TheFittChick Fall Recipe eBook HERE!
**Use Code FittChick15 at checkout on Trutein web-site for a 15% discount**