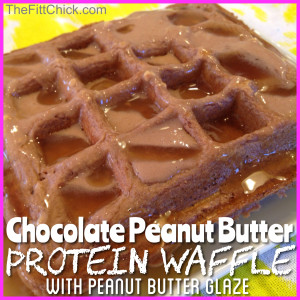 Who doesn't love to start their day with waffles?  I have a huge sweet tooth which is why I am always trying to come up recipes that feel like you are eating junk food but are really healthy and weight loss friendly!
Try this recipe and let me know what you think!   And if you are a waffle lover like me, check out my sweet potato waffles from last week.
TheFittChick™ chocolate peanut butter waffle …
With peanut butter protein glaze
Ingredients:
Waffle:
–       1 scoop (30 grams) Metabolic Nutrition chocolate cake whey
–       ½ cup Bob's gluten-free oats (35 grams)
–       ½ cup unsweetened almond milk
–       1 TBSP granulated sweetener
–       ¼ tsp baking powder
Topping:
–       1 TBSP chocolate whey protein powder
–       1 TBSP unsweetened almond milk
–       ½ TBSP peanut butter or PB2
–       add a pinch of sweetener if desired
Directions:
1.   Grind oats until flour
2.   Add all other "waffle" ingredients and mix well.
3.   Pour into a heated waffle maker.
4.   Top with peanut butter frosting and maple syrup.
5.   Enjoy!
~Eat Yourself Skinny~
**For more recipes just like this one, check out my eBooks HERE!**