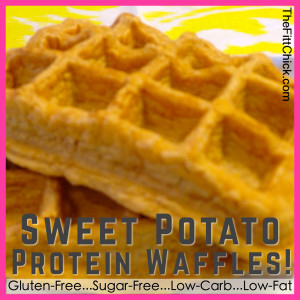 BREAKFAST NEVER TASTED SO GOOD!
Thank goodness I only made 2 waffles because these were so good I could have kept eating until I felt sick!  Not only are these delicious, but they were thick and filling as well.  This will probably end up being my staple breakfast for the next couple of weeks!  This recipe is definitely a keeper!  If you don't have a waffle maker they will easily work as pancakes!
sweet potato protein waffles…

Ingredients:
–       1/3 cup old fashioned gluten-free oats (30 grams)
–       1 TBSP coconut flour
–       4 egg whites
–       2 oz sweet potato puree
–       ½ tsp cinnamon
–       ¾ tsp vanilla extract
–       ½ tsp baking powder
–       1 TBSP granulated sweetener
Directions::
1.      Grind the oats into flour.
2.    Add remaining ingredients and blend again.
3.     Cook in a heated waffle maker sprayed with nonstick spray.
4.    Top with Walden Farms maple syrup.
5.     Devour.
MODIFICATIONS:
~ For extra protein add ½ scoop (3 TBSP) vanilla or unflavored protein powder.
Nutritional Info:
Serving Size: entire recipe
271 Calories   3 Fat   38 Carbs   20 Protein
Eat Yourself Skinny!