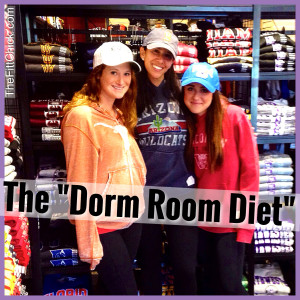 There is a myth that in the first year of college students will pack on 10-15 pounds. Unfortunately, for many kids, this is a reality. Many new students are not accustomed to living away from home or cooking for themselves. Additionally, given the demanding schedules of many university programs, students may not have time to prepare meals. Consequently, students find themselves eating less than stellar cafeteria meals or grabbing take-out from the closest on campus fast-food outlet. The nearly daily visits to the local bar or coffee shop doesn't help either. Slowly but surely the dreaded "Freshman 15" becomes a reality.
TheFittChick "College Plan" is designed to help you tweak your existing diet, while learning the best choices to make once you leave home!  If you're in college and looking to lose a few pounds or about to leave for your Freshman year, you have come to the right place!  Not only will you receive a one hour consultation in person or by phone, but you will have unlimited support once college life begins! We will stay connected through email, texts, or phone calls!  I will even send you a "college cheat sheet" with meal ideas, snack options, cafeteria go-to's, and what to eat when you get the midnight munchies.
Let me teach you what to snack on during late night study sessions or the best low-cal options to keep in your mini fridge. I created this plan while thinking of all the social pressures and endless temptations that come with the college life.  TheFittChick plan solves every question you may have when it comes to losing weight without sacrificing your social life.
THE "DORM ROOM DIET" MADE THE NEWS!  CHECK OUT THE LINK HERE!
If you are ready to EAT YOURSELF SKINNY, sign up now by clicking HERE!
**If you live off campus or have a kitchen, I highly recommend TheFittChick recipe ebooks for Quick and Simple diet-friendly meals.**