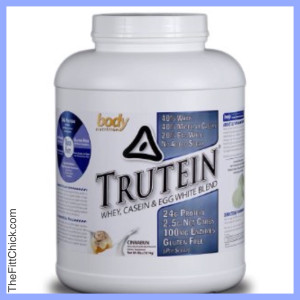 "Fitt" Find from TheFittChick
Outside of vitamins and fish oil, protein powder is one of the few staple supplements that everyone should be using on a regular basis. It's the easiest way to ensure that you always get enough protein in your diet to help keep you lean and muscular. With so many brands to choose from, it is hard to know which ones are full of quality ingredients and also taste great.
My favorite new "go-to" protein powder is Trutein. Each serving is filled with 24 grams of Protein, 5 grams of BCAAs, and 4.5 grams of glutamine. It is the perfect powder to continuously fuel new muscle growth, increase amino acid absorption, and promotes digestive healthy and satiety. Plus, the 8 flavors taste fantastic.
I have been using the CinnaBun and Chocolate-Peanut Butter Cup in shakes, oatmeal, ice cream, waffles, and baked goods all month.   I love love love this protein powder! I cannot say enough good things about it! I just created these amazing 3 Ingredient CinnaBun Protein Waffles using Trutein powder. If you are in the market for a new brand of protein, I highly recommend this powder.
Lucky for us, the makers of Trutein are happy to offer followers of TheFittChick a 15% discount code. Use the code FITTCHICK15 HERE to receive your discount today!
Live Fitt!…Be Fitt!