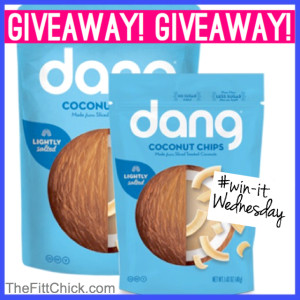 I am so #dang excited to give you the chance to win my new favorite snack! Which, by the way, was just given the "cleanest packaged food award" by Prevention.com! This chip has taken coconut to a whole new level! They are crunchy, slightly sweet, and perfect for the ever so needed on-the-go snack!
I literally could use these chips on everything! I have recently been using them as a cereal replacement with a little cinnamon and unsweetened coconut milk. Then I realized they would be great on top of my nightly protein ice cream or frozen yogurt. And just when I thought I was done creating ideas for this perfect snack, I added it to my salad and was loving the crunch!
I literally feel like this product is too good to be true! I check the ingredients EVERYTIME I open the bag to make sure it really is just coconut and sea salt!
I, of course, love that they are Non-GMO, gluten-free, dairy free, and high in fiber. As an added bonus for those looking to burn fat, coconut meat is rich in MCT's which can be easily burned by your body and used for energy! I also have to mention that coconut is also a great immunity booster, and the oil from coconuts can help boost thyroid function by helping to increase metabolism, energy, and endurance. It even helps increase digestion and enables your body to absorb fat-soluable vitamins. How many snacks do you know that have that many benefits?
Okay, Okay…I am done raving about these chips! But you must have them! Try them! Even if you think you don't like coconut, you just might fall in love with these guilt-free coconut chips!
And if you just can't wait to see if you win, use the promo code "20DANG" right now on amazon for 20% off any Dang coconut chips (this promo will run through the end of January 2018)!
The Giveaway…
TheFittChick is teaming up with DangFoods to give one follower of TheFittChick™ 4 bags of lightly salted coconut chips!
That's 12 servings

!!!! Enter below to win! Good Luck! And HAPPY SNACKING!
How to Enter…
This giveaway will be open until Wednesday, January 24th, 2018.
(You can also enter to win on Instagram)
This post was sponsored by DangFoods. All expressed opinions are those of TheFittChick and were not influenced by the opinions of DangFoods. Thank you for supporting the brands that I believe in and choose to feature on my blog.
Related Posts