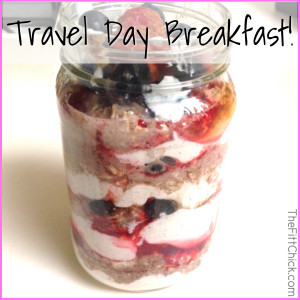 Going on vacation does not have to mean leaving a healthy diet behind. With a tiny bit a planning and preparation you can have a healthy breakfast on the go.  Overnight oats are one of my favorite travel foods.  They take no time to make and the combination of healthy carbohydrates and protein will keep you full for hours! This is a recipe you will be so glad to keep in your bag of tricks!
Eat Yourself Skinny!
Very Berry Overnight Oats…
Ingredients:
o      ½ cup gluten-free oats
o      ½ cup unsweetened vanilla almond
milk, unsweetened
o      1 individual 0% plain Greek
yogurt (or ¾ cup)
o      1/8 cup blueberries
o      1/8 cup strawberries, diced
o      cinnamon to taste
o      Truvia or liquid Stevia to taste
Directions:
1.   Mix together oatmeal, almond milk, cinnamon, and sweetener.
2.   Mix your Greek yogurt with cinnamon and sweetener in a separate container.
3.   Place both mixtures in your fridge overnight.
4.   In the morning, layer your ingredients in a jar.  I like to layer yogurt, oats, berries, and Walden Farms pancake syrup.
5.   Repeat until your ingredients are gone.
6.   Enjoy!
Modification:
·      Use any type of fresh fruit, syrups, and yogurts to change up the flavor.
Nutritional Information:
Serving Size: entire recipe
230 Calories   28g Carbohydrates   4g fat   21g protein