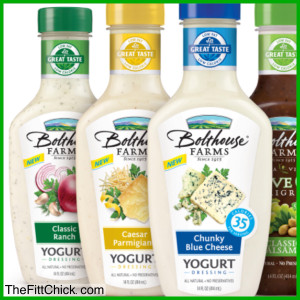 "Fitt Find" from TheFittChick™
BOLTHOUSE FARMS SALAD DRESSING
As a nutrition and wellness consultant, I am always on the look out for great tasting products that will help my clients eat the meals they love without giving up on the flavor. It is also my job to help my clients see results by incorporating all the foods they love into their everyday life. And lets face it, most people love a good salad swimming in a creamy dressing. Well, look no further because Bolthouse Farms has come out with a yogurt based salad dressing that everyone in your family will LOVE!
Bolthouse Farms dressings are one of my favorite "Fitt Finds" of the year! Most commercial salad dressings are loaded with preservatives, colors, MSG, artificial flavors, additives and processed sugar. Not only does Bolthouse keep the calories low, it uses yogurt instead of mayonnaise which leaves you with half the fat then its competitors. I know you are thinking that light dressings don't usually taste as good as the original, but THIS DOES! As someone who has been using balsamic vinegar for years, this dressing has changed my world. I am fully addicted to this creamy and rich dressing!. I have been whipping up huge salads every day just to get to try every flavor!
Bolthouse Farms believes, as do I, that healthy food should taste great. This is everything you want in a creamy salad dressing without the calories! I seriously cannot get enough of the Cilantro Avocado, the Caesar Parmigiano, and the Classic Ranch. Run to the refrigerated section of your grocery store to buy this irresistible "Fitt Find." You will be so glad you did!
Eat Yourself Skinny!