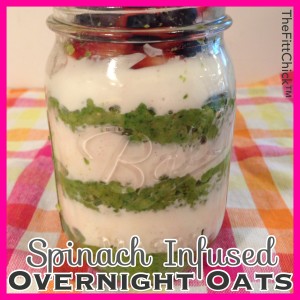 Are you having a hard time getting in your green veggies?  Unfortunately most people don't eat enough vegetables, which is the secret to getting a lean body without drastically changing your lifestyle.
Vegetables are so effective for fat loss because they provide "bulk" to your diet without adding very many extra calories.  By loading up on your greens you keep your metabolism going while eating in a calorie deficit.
Veggies keep you satisfied as well as keeps your blood sugar steady so that the muscle building, fat burning process isn't interrupted.  If you want to truly be healthy and lean then a high intake of veggies is essential.
If you are having a hard time fitting in the recommended 5 cups of veggies a day, this recipe could be your answer.  @Chef_Tiffy came up with this great idea to include spinach in your oatmeal.  I always recommend tossing spinach and kale into your smoothies, but this was a great idea for including it into your oats.  I didn't want my breakfast to end!  This recipe is a keeper!!!
Spinach Infused Overnight Oats…
ingredients:
– 1 cup unsweetened vanilla almond milk
– 1 handful spinach (I used 50 grams)
– 1/2 cup oats
– 1 egg white
– 1 TBSP Walden Farm's calorie free maple syrup
– a dash of cinnamon
– Truvia to taste
Directions:
1.  Blend together all the ingredients.
2.  Once blended, simmer in a pot on low heat until thick and creamy.
3.  I tasted and added more Truvia and cinnamon at this point.
4.  Layer with 0% Greek yogurt (sweetened with cinnamon & Truvia), fresh fruit, and maple syrup.
5.  Enjoy!