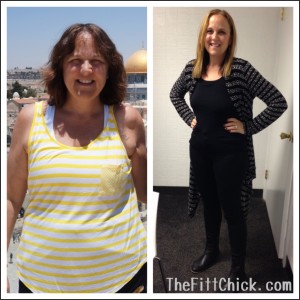 This has been such an amazing transformation to have seen happen right before my eyes. Shari amazingly lost 41 pounds along her journey, but what she found was her inner happiness. Week by wee
k I have seen her smile get bigger and her confidence grow!
2016 UPDATE: Shari and continued her journey, found a love for competing in races and triathlons, and has even managed to take off an extra 20 pounds! She started with a goal of 15 pounds, and has worked so hard to be at her final loss of 61 POUND LOSS! Not only did she lose the weight, but she has now kept it off for 3 years! She was actually just featured in the July 2016 issue of Woman's World Magazine. She is such an inspirational to everyone around her!
HOW LONG WILL YOU WATCH OTHERS DO WHAT YOU WANT TO DO?
Let Shari inspire you to get started today! If you are ready to eat more and weigh less, check out my plans  HERE.
Eat Yourself Skinny!
Related Posts