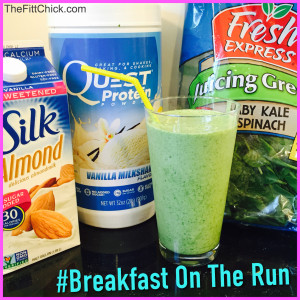 Breakfast in under 5 minutes is always a bonus, especially if it is full of 3 servings of your daily greens and over 25 grams of protein. Nourish your body and boost your energy with this nutrient- and antioxidant-packed smoothie that is perfect for anytime of day. Greens, vanilla almond milk, and Quest Nutrition's Vanilla protein powder is all you need to make this addictive recipe.
Most people are aware of the importance of eating plenty of vegetables, yet not everyone know just how important protein is for your body. Protein is one of the four macronutrients that your body needs on a day-to-day basis (along with fat, carbs, and water). Protein is essential for our bodies to work properly. Because your body burns protein slower than carbs, protein is important to prevent blood sugar spikes that can not only make you feel weak and dizzy, but can also lead to serious health issues down the road. Most importantly, when your body has enough protein it doesn't have to resort to burning muscle for the energy it needs, so your muscles stay strong and toned.
This has been my new go-to breakfast or afternoon snack all week! I am completely obsessed with the taste and consistency. This is one recipe you have to try! And for more recipes just like this one, click HERE!
3 Ingredient Green Smoothie
INGREDIENTS:
–       1 cup unsweetened vanilla almond milk
–       1-2 servings spinach and kale juicing mix (or 1 cup of spinach and 1 cup of kale)
DIRECTIONS:
Blend your greens with half the almond milk so spinach and kale is finely chopped.

Add the remaining ingredients and blend until smooth.
MODIFICATIONS:
–       This recipe tastes great with unsweetened cashew milk.
–       Adding any fruit to this recipe is always an option
Drink Yourself Skinny!
Related Posts