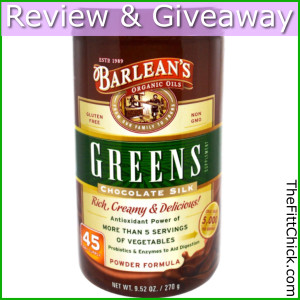 I was lucky enough to discover Barlean's Chocolate Silk Greens at my local health food store while shopping with my two young children. Not only did they think it was chocolate milk, but they asked me to buy some to bring home. By mixing one scoop of powder with milk or water, you can create a healthy chocolate milk that is bursting with nutrition. I always mix 1 scoop with 1 cup unsweetened chocolate almond milk and ice.  Sometimes I even blend it with 1 scoop protein powder for a nutritious shake.
As far as health benefits go, most people, especially children, don't get enough vegetables in everyday. Chocolate Silk Greens contains a wide variety of green foods. It is full of many antioxidants, organic greens (spinach juice powder, broccoli juice powder, parsley juice powder, aloe vera leaf powder, barley grass juice powder, spirulina, etc..), flax omega and fiber blend, enzymes, and probiotics. So basically its like taking a huge plate of veggies, dehydrating them, and blending them into a powder. There is more than 5 servings of vegetables in every 25 calorie scoop.
Although these greens are not a substitute for real vegetables in your diet, nor is it a multivitamin, it is a great way to sneak in extra nutrition to your day. I always try and eat a balanced diet including nine cups of green veggies everyday, but just one scoop of chocolate silk will ensure that I am 100% getting in good amino acids, enzymes, and other nutrients. This is the perfect super food to add to your family's breakfast routine!
Have you tried Barlean's Chocolate Silk Greens yet?  You can buy Barleans HERE or at your local health food store.
The Giveaway…


TheFittChick is teaming up with Barlean's to give you a chance to taste this amazing product!
How to enter
This giveaway will be open until Wednesday, June 11th
This post was sponsored by Barleans. All expressed opinion are those of TheFittChick and were not influenced by the opinion of Barleans. Thank you for supporting the brands that I believe in and choose to feature on my blog!