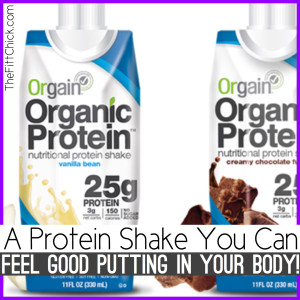 New health food products may seem like they are a dime a dozen, but great ones are actually few and far between. As a wellness consultant helping thousands of people live a healthy lifestyle, I have extremely high standards for what I consider a FittChick "approved" item. I recently came across this ready-to-drink organic protein shake at my local health food store and was immediately intrigued by its health profile.
Not only is it the world's first organic ready to drink protein shake, but it is made with grass-fed whey, is Gluten Free, Soy Free, Non-GMO, and free of all artificial colors and preservatives. With 25 grams of organic protein, it acts as the perfect post workout shake for any fitness routine! Nothing I can say about this product can impress you more than this video made by its creator Dr. Andrew Abraham.
THIS LINK describes a doctor's journey with cancer and the critical role wholesome nutrition played in his recovery. He made it his mission to formulate a drink that would actually make a difference in the health of others. Not only did it have to be low in sugar, high in organic protein, and be free of artificial sweeteners, but it had to be organic. Today, Orgain is supporting thousands of people in their own battles with illness, and is the perfect tool to maintain and optimize good health for those looking to put high quality nutritious foods into their bodies.
It has a been a long time since I have been this excited about a new "Fitt Find" that actually is committed to high quality ingredients. Orgain has even added shakes for kids, vegan options, and plant-based protein powders. Whatever your nutrition plan is, Orgain's wholesome nutrition will play a vital role in supporting your body in whatever health, fitness, or weight loss journey you are on. Try it today HERE!
Eat Youurself Skinny!
Related Posts