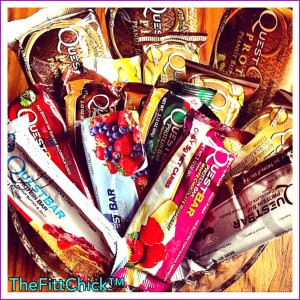 For those of us who are constantly on the go, protein bars are an easy and convenient way to get some extra energy and protein into your body anytime you need it.
"There are literally hundreds of different bars on the market to choose from, but the reality is that the vast majority of them are fairly poor options. Most are packed with low quality protein sources such as gelatin and soy protein. They also have high amounts of simple sugar, junk ingredients and useless fillers you don't need or want in our diet. In other words, it's a candy bar with the word "protein bar" slathered across the front."
"There are a few key factors that make Quest Bars superior to any other option out there right now. The primary source of protein found in Quest Bars is derived from whey, which is a high quality source of protein. Your body will absorb the greatest amount of protein from whey, and has the best amino acid profile for supporting lean muscle growth."
Most other protein bars use gelatin, which is derived from animal by-products such as skin, horns, hoofs, and bones. Gross!
"Another quality that helps Quest Bars stand out from the rest is its high amount of fiber. Every bar has around 15-17 grams of fiber derived from an all natural plant source. It is easily digestible, and helps to control hunger, improve digestive health and even prevent certain diseases.
Quest bars also contain 5-10 grams of healthy fats, which help keep the bars soft while adding the flavor it needs.
Lastly, and my favorite aspect of the Quest Bar is how clean and simple its list of ingredients are. Unlike most low quality bars that contain an endless list of fillers, binders, and other additives, Quest bars only contain the ingredients you need without any extra junk added in."
If you are on the hunt for a new protein bar, the Quest Bar is the only FittChick "approved" bar! My list of favorites include cookie dough, chocolate chunk, apple pie, banana nut muffin, and white chocolate raspberry.
Look for my Quest Bar giveaway coming soon!
Live Fitt!…Be Fitt!