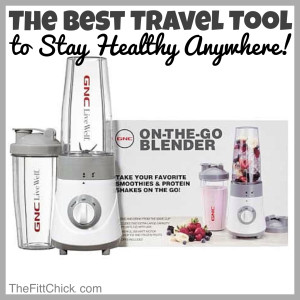 As someone who never travels, let alone goes on road trips, this is the second weekend in a row I'm heading out of town. Because I'm staying in a hotel I don't need my food prepped for every meal, but that doesn't mean I'll be traveling empty handed. My newest obsession in my GNC travel blender. For $26 bucks, this thing works as well as my Vitamix! I haven't tried making pancake batter or cookie dough, but for a protein shake this product ROCKS!
I was surprised it was powerful enough to blend large pieces of ice, and I love that it comes with two 30oz travel cups. The unknown of where and when you will eat on vacation can be daunting when you have been working so hard to reach a weight loss goal. This product is a lifesaver for those taking their healthy lifestyle on the road!
Hopefully you will love this "Fitt find" as much I do! I will be laying in the sun drinking TheFittChick Chocolate Peanut Butter Cup protein milkshakes and loving every minute of it! Try out this recipe next time you are looking for a way to satisfy your sweet tooth without packing on the pounds.  And for more healthy travel tips click HERE!
Chocolate Peanut Butter Cup Protein Shake
INGREDIENTS:
–       1 scoop Trutein Chocolate-Peanut Butter Cup protein powder
–       1 cup unsweetened chocolate almond milk
–       ½ cup shaved ice (or 3 ice cubes)
–       1 TBSP PB2
–       1 TBSP granulated sweetener of choice
–       2 TBSP Walden Farms Chocolate sauce
–       a pinch of sea salt
–       a pinch of xanthum gum
DIRECTIONS:
Combine all ingredients and blend until smooth.
Taste and adjust to your liking.
Devour!
**For More recipes created by TheFittChick, click HERE!**
Eat Yourself Skinny!