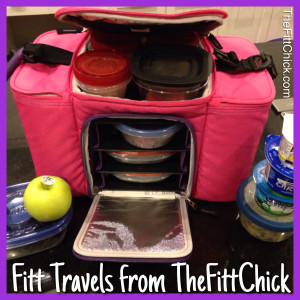 It's easy to give up on your diet or general healthy eating plan while you're traveling. Whether the trip is for leisure or business, the constant rush of activities may make it tempting to indulge in unhealthy snacks or meals. But if you keep healthy food choices on hand, you may maintain a healthy diet during your travels with no regrets.
I loaded up my 6 Pack Bag with 3 days worth of meals and snacks to ensure I stay on track while traveling with my family this weekend. When children are involved, it's easy to end up at the quickest option, but that can often be a place that doesn't offer many healthy meals. I loaded up with pre-portioned steak, sweet potatoes, Brussels sprouts, green beans, Greek yogurt, carrots, and hard-boiled eggs. Hopefully I won't need everything I stocked up on, but I'd rather have to many options then not enough.
Here are 5 FittChick tips for staying on track while traveling…
Pack your own meal for the airplane! This provides you with an alternative to eating the expensive and typically unhealthy meals offered at the airport. Some easy on-the-go ideas are fruit, protein bars, nuts, hard-boiled eggs, beef jerky, individual peanut butter packets, a sandwich, or even a meal you prepared ahead of time.

Drink plenty of water while traveling! If can be easy to ditch your normal water drinking routine on vacation and reach for sodas and alcohol. Make an effort to drink a glass of water for every non-water beverage you choose.

Stock the hotel room with snacks! Keeping healthy treats on hand will remove the temptation to dive into the mini bar or order room service. I always travel with my GNC travel blender. This gives me the option to fill up on a filling protein shake before heading into a big dinner or event. I also fill my suitcase with nuts, seeds, fruit, and bars.

Know where you are going! When you're in a new city or on the road, avoid stopping at the first fast-food joint you see as soon as you're hungry. Take some time to research or plan where you will be headed once you arrive. One unhealthy meal can sabotage your mind set and set you on a path of meal after meal of bad choices.

Don't forget to eat breakfast! Staying up late and sleeping in can sometimes make a meal first thing in the morning not seem very important. However, breakfast helps prime your system and prepares you for a full day of activities or business meetings. If your hotel offers a complimentary breakfast, choose a high fiber and protein meal, such as whole grain toast with eggs, to give you instant energy and keep you full till lunch.
FAIL TO PREPARE, PREPARE TO FAIL!
Related Posts