5 Tips to Get Ready for a 'Good-Looking' Spring Break 
(February 2015)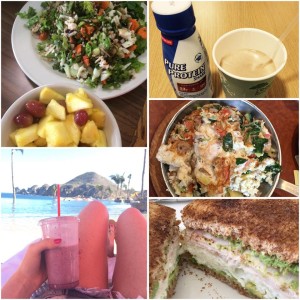 1. Eat a well balanced breakfast…It's important to start the day motivated and energized. By eating breakfast you will start your metabolism for the day, which can help you burn more calories throughout the day.
2. Drink water!…Water keeps you full! Sometimes I find when I don't drink water I end up eating out of boredom, and not even because I'm hungry. It's helpful to carry around a Fitt Chick Tumblr cup or any cup with a straw, which forces you to drink more water throughout the day.
3. Find time to add weight training into your gym routine…Many people believe that cardio is the only key to being "Fitt." Those people are wrong! You must incorporate weight training into your cardio routines if your goal is to have a toned body. Lifting weights isn't just for men! The app 12 Minute Athlete combines weight training with cardio for a killer workout. Give it a try!
4. Plan to eat more frequently…Eating every 2-3 hours in a day can seem exhausting, but it definitely yields results. Make sure that when you leave the house you're fully prepared up until dinner. This trick keeps your metabolism going all day. Once you go an extended amount of time without food, your body thinks it's starving itself and begins to process foods differently than it normally should. Eating on an infrequent schedule will make you extremely hungry later in the day, which could lead to making poor decisions. Make sure you're always watching the clock to time your meals perfectly in order to make healthy decisions.
5. Get Motivated!…No matter if it's with a buddy, guided by an extrinsic goal, or just picturing yourself in that new bathing suit you just bought, it's all about how dedicated YOU want to be. If that means going to buy a new pair of Nike's then, "Just do it!" The main goal is to look and feel fabulous for that amazing tropical vacation.
Month 4…Cheat Clean With Protein Cereal!
(November 2014)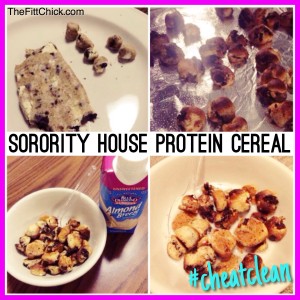 Quest bars are the newest craze when it comes to having a nutritious protein snack. Many "protein" bars are packed with an insane amount of carbs, but the Quest Bar's are the only true low carb bar on the market. Be sure the next time you pick up a bar to check the total carbohydrates and amount of protein in each serving. I've been eating Quest bars for about 5 months every single day. Recently, I have tried to be innovative by creating alternative ways to eat my bars. Tonight I made Cookies 'n Cream Quest cereal. First I put the bar in the microwave to soften it. Then I flattened the quest bar and began ripping off little sections and rolling them into tiny balls. Next I placed them in the toaster oven and set it to 350 degrees. The "cereal" came out a little bit burnt after about 5 minutes, so a cooking time of 3-4 minutes would result in a perfect consistency. After this, I added my unsweetened vanilla almond milk and enjoyed my healthy late night bowl of cereal. You can #EatYourselfSkinny with Quest Bars. HERE is the official link to the Quest's #15SecondRecipe posted on their blog, along with the recipe. Enjoy!
Month 3…A College Lunch That Proves You Can Eat More & Weigh Less!
(Octoberr 2014)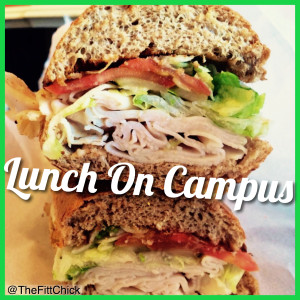 Constantly eating out in college is definitely a struggle when you don't know exactly what you are ordering. Many chain restaurants like Potbelly's, Noodles & Co., Chipotle, and Subway all offer online nutritional facts that are very easy to navigate. Before I went out to lunch yesterday I went on to the Potbelly's website and looked up how many carbs were in their multigrain wheat bread. After just about one click I was able to find out that there is 54 grams of carbs in a regular small sandwich. With this information I headed up to the ordering station and ordered my lunch. I even added an extra ounce of turkey meat, lettuce, tomatoes, and pickles. No extra caloric sauces! I was stuffed after this filling meal. With TheFittChick plan its easy to #EatYourselfSkinny!
Week 2…A Quick FittChick "approved" Snack on Campus
(September 2014)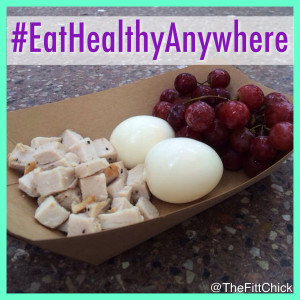 Do you ever get hungry on campus and want to get a high protein snack? Many campus cafeteria's have plenty of alternatives to the skittles, donuts, or chips that are near the cash register to tempt you. Today I went to one of the many on campus dining areas and created my own high protein and perfect carb balanced snack. Over at the salad bar I grabbed two hard boiled eggs, along with some peppered turkey. Remember if your salad bar doesn't have turkey or protein available you can always ask the grilling station for a piece of grilled chicken. If your in the mood for turkey and it isn't available ask the sandwich bar for a single serving (4oz) of plain turkey, which is about 4-5 slices. Don't ever be afraid to ask for something specific, it will only benefit you in the end. In addition to my protein, I added a few ounces of grapes that counted as part of my daily carb intake (& they're my fav!) I hope this helps when trying to choose healthy options while on campus!  

#livingthecollegelifethehealthyway
Day 4…A FittChick Style Coffee Break  
(August, 2014)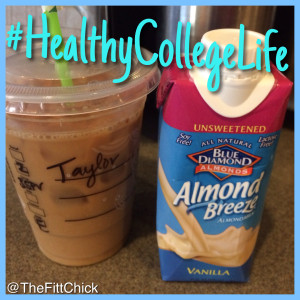 I have been really missing my Fittchick latte from @raviniacoffeestation, so this morning before recruitment I went and created an "as close as I could get" version.  I ordered two espresso shots over ice with three pumps of sugar free vanilla.  The other day I stopped at whole foods to have lunch and found myself strolling through the aisles to find healthy alternatives and FittChick "approved" items.  I found single serve boxes of unsweetened vanilla almond milk, so I grabbed all four boxes left on the shelf.  This morning I used half of the milk to make my Fittchick latte and it tasted just like it did at home! (I used the rest of it later in the day to make a protein shake).  I've been finding ways to eat and make things on-the-go that will keep me "Fitt."  #livingthecollegelifethehealthyway
Day 1…Back at School
(August, 2014)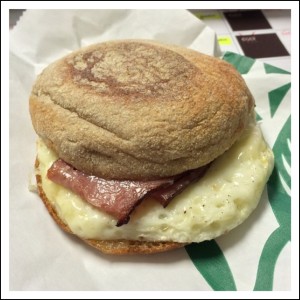 "Today is my first day back on campus and I'm starting recruitment practice this week. I haven't had time to go to a grocery store and do not have a mini fridge yet, so I have to be careful when I'm choosing my meal options. On my way to my sorority house I stopped at Starbucks to start my day. I ordered the reduced fat turkey bacon sandwich with double egg and and no cheese. They charge you for two sandwiches but it's definitely not a bank breaker. It comes out to about 6.50-7$. The whole wheat English muffin is FittChick approved and only consists of only 26 carbs. This is perfect considering I'm trying to start my day with energy, protein, and carbs!"