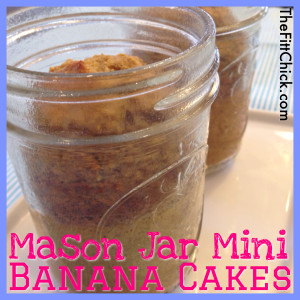 Banana cake is one of those irresistible comfort foods that my family just can't get enough of. Growing up, my mom and I would bake banana cake all the time, and now she is baking with my 2 young children. Recreating traditional recipes into healthier versions is my specialty, and this creation is no exception.
These mini banana cakes are a perfect portion for your little ones, or anyone watching their waistline. Try this recipe for breakfast, an after school snack, or anytime you are looking to satisfy your sweet tooth. Your kids will love it, and you can feel good offering them a healthy treat!
FittKids Mini Banana Cakes
INGREDIENTS:
–       60 grams old-fashioned oatmeal (I use Bob's Gluten-Free Oats)
–       150 grams banana (about 1 1/2 bananas)
–       ¼ cup liquid egg whites
–       1/8 cup unsweetened applesauce
–       3 TBSP granulated sweetener
–       ½ tsp vanilla
–       ½ tsp baking soda
–       ½ tsp baking powder
–       pinch of salt
–       ½ tsp cinnamon
–       ¼ cup chocolate chips (optional)
DIRECTIONS:
Preheat oven to 350.
Place your oatmeal in your blender and grind till flour.
Add remaining ingredients and blend until smooth.
Spray 3 mini mason jars with nonstick baking spray.
Bake for 20 minutes.
Enjoy!
NUTRITIONAL INFORMATION:
Serving Size: 1 jar
139 Calories     26 gram Carbohydrates   1 gram Fat     6 grams Protein
For more healthy recipes just like this, check out my eBooks HERE!