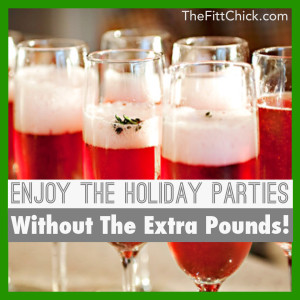 The next of couple months will probably be filled with social events surrounding the holidays. Just because you're losing weight and maintaining a healthy diet doesn't mean that the rest of the world is doing the same, and that's where you can run into trouble. The whole month of December will test your will-power with company holiday parties, gift baskets, and the constant spread of Christmas cookies. Use the seasons festivities as motivation to look and feel great in your party attire.
There is no reason to be less social during the holidays, just because you're living a healthy lifestyle. Losing weight should not be about deprivation, and that includes social activities. Here is TheFittChick survival guide for making it through your next holiday party without gaining a pound.
1. Don't Show Up Hungry…have a light meal before you go, in case there are not a lot of healthy options once you get there. Just because you know your mother made her famous once-a-year dish doesn't mean you should starve yourself in preparation. You're less likely to overeat or make unhealthy choices if you've taken the edge off your appetite beforehand.
2. Be Prepared…Keep some raw nuts in your bag or your favorite protein bar so you are not tempted to eat the candy and mixed nuts on the table.  That snack in your bag also helps when it turns out there are no healthy options available you won't be home for hours. Plus, who wants to get stuck wasting thousands of calories on a meal you never wanted in the first place?
3. Speak Up…most of the time a restaurant will be more then happy to bring you a salad without dressing, a healthy version of the meal being offered, or a cup of berries in place of the dessert. You just have to ask!
4. Look Your Best…usually if you are wearing something you feel good in, it will make you more aware of your body and less likely to overeat!
5. Keep Your Mouth and Hands Busy…If you have a glass in one hand, it's more difficult to hold a plate and eat. Drinking a low-sugar cocktail or water is a great option when you feel like your about to cave. Also, keep yourself busy by socializing with friends—after all, that's what you're there for.
6. Enjoy Yourself…There's no need to deprive yourself of your favorite holiday treat. Decide what your pleasure will be for the evening. If you plan on more then a few cocktails, let that be your treat for the night. If you can limit your alcohol, plan on enjoying a few bites of some special foods you don't regularly eat. Just keep in mind that your favorite dessert will taste that much sweeter if it's a special treat, rather than a regular occurrence.
I remember at last years holiday party loving my huge salad, one pound of King Crab Legs, steamed green beans, and fresh berries. Just because everyone else ate double baked potatoes, Caesar salads, huge steaks slathered in butter, and giant pieces of cake didn't mean I had to. The waiter was more than happy to accommodate my requests, and to be honest, everyone at my table was just a little jealous they didn't do the same.
Happy Healthy Holidays from TheFittChick! And remember, nothing will taste as good at your next holiday party as being fit will feel!
Eat Yourself Skinny!
Related Posts