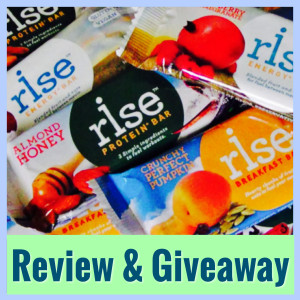 I was sooo excited to get a package of Rise Bars in the mail!  Who doesn't love trying new healthy foods that make life a little easier?
If you have been around my blog for awhile you know how much I love easy on-the-go snack ideas that are good for everyone in my family. I have raved about Quest Bars  & Larabars for years, and I am always on the hunt for new, clean foods.
The first thing I noticed was that RiseBars are gluten-free certified, GMO-free, peanut-free, ALL organic, and had no preservatives!  SCORE!!!  You can't get much better then that!
My sample box had three different types of bars including protein bars, breakfast bars, and energy bars.  They are all different in texture, flavor, and nutritional value.  The flavors are so unique and I couldn't wait to dig in.  My mouth was watering just looking at Almond Honey and Crunchy Perfect Pumpkin.  My taste testers always include my hubby, my 2 young children, and my 3 male co-workers who will pretty much eat anything).  When everyone finds a flavor they love, I know I have found product gold!
My personal favorite was the Almond Honey!  It seriously tastes like you are eating straight almond butter out of the jar.  And the best part is that there are ONLY 3 INGREDIENTS!  I can't believe how amazing this bar is with only  almonds, honey, and whey protein!
Rise Bars are new and growing so you will probably see them pop up in your local health food stores before you know it!  If you are a Chicago local I know Highland Health Foods carries a few flavors, and you can order any flavor HERE!
If you buy on the Rise website use the code 50FFRISE to get $5 off your order.
The Giveaway…
The FittChick is teaming up with Rise Bar to give you a chance to taste all the amazing flavors with a sample box! Giveaway is restricted to U.S. residents ONLY
How to enter
The giveaway will be open until Wednesday, April 23rd
This post was sponsored by RISE Bar. All expressed opinions are those of TheFittChick and were not influenced by the opinions of RISE Bar. Thank you for supporting the brands that I believe in and choose to feature here.