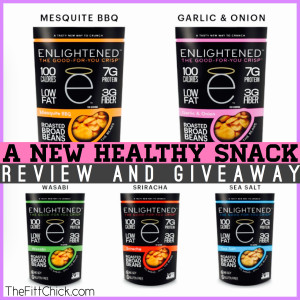 I always feel like a kid in a candy store when I find a new health food to just hit the market. This new discovery was even better because they came to me to test out this new FittChick "approved" snack! Enlightened is a company committed to creating foods that are "better-for-you", and taste delicious at the same time. Exactly the types of products I love to promote! Not only did I receive a huge box of samples in the mail, but just a week later I received this bonus package with a hand written note!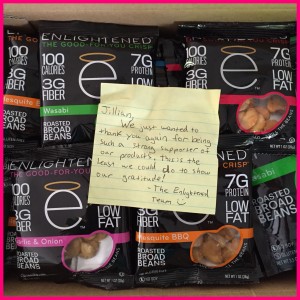 Enlightened recently introduced a new line of crunchy and savory snacks called Enlightened Crisps. Typically anything crunchy is usually just another processed carbohydrate loaded with very little nutrition and loaded with tons of added sugar. Made from roasted broad beans, a true superfood, Enlightened crisps are a fantastic anytime snack that are only 100 calories and include 7 grams of protein and 3 grams of fiber in every serving. Whether you are craving something sweet, salty, or both, they've got you covered.
I have completely fallen head over heals for these low-calorie, low-fat, high fiber treats. They are gluten free, vegan, Non-GMO, soy free, created with very little ingredients that are actually recognizable, and loaded with vitamins and protein! And the cherry on top, if it can actually get any better, is the easy on-the-go travel size packets, perfect for anyone who lives a busy lifestyle.
With five flavors to choose from; sea salt, mesquite bbq, garlic & onion, wasabi, and sriracha, there is one for everyone! My kids are loving the bbq flavor, while I am loving them all! These new tasty treats are available at a Heinene's or a Whole Foods near you, or you find them HERE and use code TheFittChick15 for a 15% discount on every order!
If you are constantly looking for that crunchy alternative to potato chips, this will satisfy your cravings without packing on the pounds. And, if you are always on the hunt for kid-friendly foods then you have finally hit the jackpot! This is one family friendly "Fitt Find" that everyone will love! Enter below to try these snacks for yourself. They are the perfect treat to help Eat Yourself Skinny!
The Giveaway…
TheFittChick is teaming up with Enlightened to give 3 FittChick followers a sampler box of Enlightened Crisps as well as coupons to try the Enlightened Ice Cream Bars. Enter below to win!
How to enter…
a Rafflecopter giveaway

This giveaway will be open until Friday, June 26th
(You can enter also on Instagram for an extra chance to win)
This post was sponsored by Enlightened. All expressed opinions are those of TheFittChick and were not influenced by the opinions of Enlightenedt. Thank you for supporting the brands that I believe in and choose to feature on my blog.
Related Posts