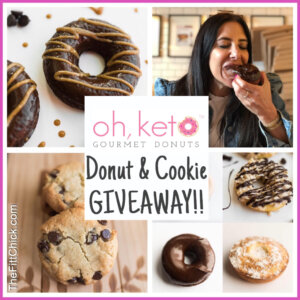 Okay all you dessert lovers, listen up! I have teamed up with Oh, Keto Donuts for my first GIVEAWAY of 2020 and you DO NOT want to miss out! If you have not tried their donuts, cookies, or brownies, then you are in for a treat! I wake up every Sunday morning eager to to see what unique flavors will be available to order for the week! There literally hasn't been a single flavor I do not love, but if I had to pick a favorite it would be the double chocolate! Wait, maybe it would be brown butter crumb. Either way, I keep almost every flavor in my freezer so I can always get my fix!
These handmade goodies are gluten-free, sugar-free, AND Keto friendly! They are made fresh each Monday, and by Thursday I always have a package of fresh baked goodies sitting on my front porch! Once they started rolling out the cookies and the brownies just a few months ago, I literally ran out of freezer space! The Chocolate Chip Cookie is HUGE and delicious, and the "Brookie" is a brownie/chocolate chip hybrid that is so good it is indescribable! I can't even tell you how much I love this company and every single product they make! I mean, who wouldn't want a sample pack of all this deliciousness?
If you are following a Ketogenic Program these are a great supplement when you are craving something sweet, but they really are perfect for any healthy eating plan! I can't imagine who wouldn't want a low calorie, sugar-free, gluten-free dessert that everyone in your family will be fighting over! Check out the details below! And comment with your favorite flavor if you love Oh, Keto as much as me!
The Giveaway…
TheFittChick is teaming up with Oh, Keto Donuts to give two lucky followers of TheFittChick™ the
ultimate sample pack of goodies!
Enter below to win! And Good Luck!
*This is limited to U.S. and Canadian residents only*
How to Enter…
This giveaway will be open until Friday, January 17th, 2020.
(You can also enter to win on Instagram, Facebook, or Twitter)
This post was not sponsored by Oh, Keto Donuts. All expressed opinions are those of TheFittChick and were not influenced by the opinions of Oh, Keto Donuts. Thank you for supporting the brands that I believe in and choose to recommend and feature on my blog.
Related Posts:
Do You Know Why You Want to Lose Weight?
How to Eat on a Ketogenic Diet!