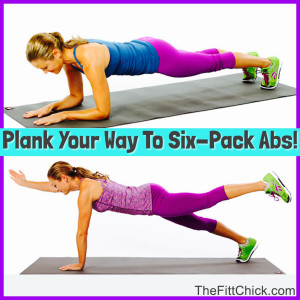 One of the greatest exercises to work your abs is actually one of the simplest. The plank is used for building core strength and endurance. Whether it's a full spare tire or a simple set of love handles, a few unexpected inches around the waist can be whittled away with a combination of diet and exercise. Because you can't spot reduce body fat, you must work to lose fat throughout your entire body. The most effective way to do this is through diet, aerobic exercise and strength training. I personally love the plank because it's an isometric move, which means you don't do anything but hold the position.
Research has shown how planks are beneficial for your overall health including: stabilizing your spine, preventing lower back pain, and building core strength. By strengthening the core muscles, the plank exercise position helps tighten and tone your stomach muscles. Although the plank pose will not single-handedly get rid of stomach fat, it can be combined with other techniques to help shrink your belly.
Here are two great workouts to get you on your way to the flat stomach you crave! And here are my 5 tips for how to hold a longer plank.
Do a plank EVERY SINGLE DAY!

Turn the stop watch over so you can't see it.

Read a magazine article or the internet.

Countdown backwards in your head, REALLY SLOW.

Do it unit it hurts, then hold for 30 more seconds!
 
Start incorporating planks into your daily life, and you will see fast result in feeling stronger , getting leaner, and feeling great going into 2016! If you are looking for a customized eating plan to help Eat Yourself Skinny, click HERE!
Live Fitt!…Be Fitt!
Related Posts