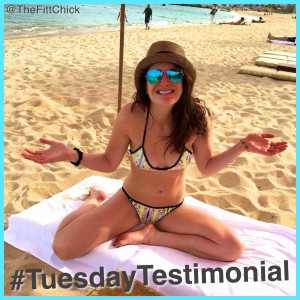 In Her Own Words…
"It's hard to go to college and not gain weight your freshman year. You live in an unfamiliar environment with every bag of chip at the tip of your fingers. Maybe it wasn't just the unhealthy food that caught up to me, but it was not knowing what to eat and when to eat it. Jillian's diet has not only changed my eating habits, but has changed the way I live. I now know when to eat, what to eat, and how much I'm supposed to eat. TheFittChick plan is more than just a "diet;" it is a way of life. No matter how much you say you can't diet, or that it's too big of a commitment, Jillian's plan is no such effort. Her 24/7 assistance is like having a personal food guru that's just a text away. Along with her nutritional knowledge, her personal training has completely transformed my body. I can't thank Jillian enough for leading me down this wonderful path to confidence. Now I am "Living the College Life the Healthy way."
Since Taylor's Transformation story, she has lost almost 15 pounds, and a total of 12.75 inches. Through weight training and TheFittChick plan, she is seeing remarkable results! Look at her and I training just last week. Her body has completely changed in just 8 months!

Let Taylor inspire you to get started and change your life.  Check out her own transformation story HERE, follow her own blog HERE, and to see more Transformations click HERE!
Eat Yourself Skinny!
Related Stories