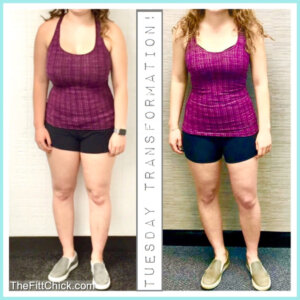 We all know there are loads of ways to GAIN weight in college – hence the ever-familiar Freshman Fifteen. New studies find that 70% of college students gain weight and body fat by graduation, fueled by late night snacking, fattening dorm meals, and a lack of exercise! There are a lot of great tips out there on avoiding weight gain, but what if you are already dealing with those extra pounds?
Today's transformation is one that has been 4 years in the making, and one that I am so proud to share! As a post college graduate, Carly came to me to lose weight and learn to live a healthy lifestyle while starting her own business, living in her own apartment, and being an extremely picky eater! She also didn't cook AT ALL, ordered in or picked up every single meal, and ate a lot of packaged foods because she worked very long hours leaving very little time in her day! Over the course of our first 15 months working together, Carly lost 21.5 pounds, 10% body fat, and almost 17 inches off her body! She felt amazing, and was back in to her short shorts and smallest jeans! Throughout her journey together our main focus was controlling her emotional eating, how to cook quick and simple meals, and how to maintain her weight loss and her new found habits. Maintenance is a HUGE part of any transformation, and in my experience the most important part!
Carly said "Starting with Jillian Spector, TheFittChick, was the best birthday present I could have ever given myself four years ago. I legitimately met with her on my birthday, and although that night I splurged a bit, I started my plan the very next day. I loved that Jillian worked with me to find food options that I liked and that were high in protein. As a picky eater with a limited diet, she came up with so many ideas for me. She was always incredibly encouraging and communicative. I loved that I could text her at any time with nutrition questions, whether it be taking a picture of a food product I wanted to purchase or asking her about an on-plan option at a given restaurant. I'm so happy that I lost the college weight and am able to maintain a weight that is comfortable for me. She also helped me change my mindset to be focused on the nutrients I was consuming rather than the number on the scale! I also loved her InBody Analysis that allowed me to see statistics on various metrics including my percentage of body fat. Seeing before and after pictures throughout the process and seeing the number of inches my body had lost was so encouraging. Even when I had weeks with off-plan eating, Jillian was always so positive and helped get me right back on track. I highly recommend going to the FittChick. Jillian really does help transform your eating, your self-concept, and your life!"
Let Carly's inspiring story motivate you to get started TODAY! If you are ready to EAT MORE & WEIGH LESS, check out TheFittChick plan HERE! And check out my "Dorm Room Diet" which is perfect for high school Seniors who want to tweak their existing diet, while learning the best choices to make once they leave home!
Are You Ready to EAT YOURSELF SKINNY?
Related Posts
A High School Senior and Her Success Story!
An Inspiring Grad School Transformation!